Suggested Reference Materials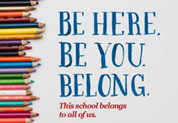 We have created the resources in this area as we believe that it is our collective responsibility to challenge and dismantle racism in all its forms and at all levels. We believe that "not being racist" is not enough and we are doing everything we can as a school to be "anti-racist."
Across the world many people are educating themselves seemingly more than ever. But we have been here before. The Brixton riots in the 80s, the Los Angeles riots in the 90s, as well as several incidents in the U.S. and globally in the past decade and recent year.
Therefore, we recognise that much more work is needed to embed sustainable change, in order to make things better for us all and for our future generations.
We know that black people have been overlooked and ignored by the writers of history. This is why observing of black history is so important. If we only tell history from one perspective, we continue to perpetuate ignorance which ultimately results in injustice and inequality. We hope this resource list will contribute to a deeper understanding of racism and genuine inclusion. As we believe now is the time for action.
We can together help to build a truly inclusive culture that stands against racism and celebrates inclusion.
We have shared below a selection of TV programmes, Films, Childrens book recommendations, adult books recommendations, Articles, Podcasts and Talks that you may want to explore further in your own time, to support our continued learning and understanding.