Reading at Riverside
Intent:
Reading provides us with so much more than words on a page. It opens us up to a whole world of wonder, amazement and opportunities. At Riverside School we believe in sharing a love for reading with every pupil in a way which is both meaningful and personalised. This may include sharing stories through puppetry; storytelling; sensory stories; multi-sensory approaches; massage stories; sharing a story; or just simply reading or listening to a book as a class. Every pupil at Riverside School is supported to be able to access reading in their own individual way through our blue, orange and yellow pathways, ensuring we provide a reading scheme as unique as our pupils.
Implementation:
At Riverside School we are on a reading journey committed to ensuring we are giving our pupils the most appropriate and meaningful phonetical and literacy education possible. We use a variety of reading approaches to meet the diverse needs of all pupils following our pathways to reading, which includes a pre-phonics approach, where we use the engagement areas as a support and a Systematic Synthetic Phonics (SSP) approach. We also incorporate See and Learn and various other reading schemes across all four of our sites. At Riverside School every pupil has a personalised curriculum and we believe including their reading journey should be no different and adaptation should be made in a personalised manner to achieve this.
Our blue reading pathway focuses on supporting pupils to explore and respond to sounds such as;
Environmental
Body percussion
Instrumental sounds
Animal sounds
Voice sounds
Rhythm and rhyme
Progress within these areas are assessed using the engagement model. Sessions appear daily within pupils' routines through a variety of sessions including; intensive interaction; learning through play; attention activities; music; dough disco or 'squiggle while you wiggle' etc. If and when pupils show an awareness of words and initial sounds, we then move on to support them to develop oral blending and begin to segment sounds in words by joining in activities such as clapping the sound, finishing the story or song rhymes.
Pupils working on the orange and yellow reading pathway work through the phonics sounds and use the synthetic phonics approach to blend and segment sounds to read a range of texts. We understand that not all pupils learn in a synthetic approach and sight-reading might be more appropriate, in this instance we follow a See and Learn approach to reading.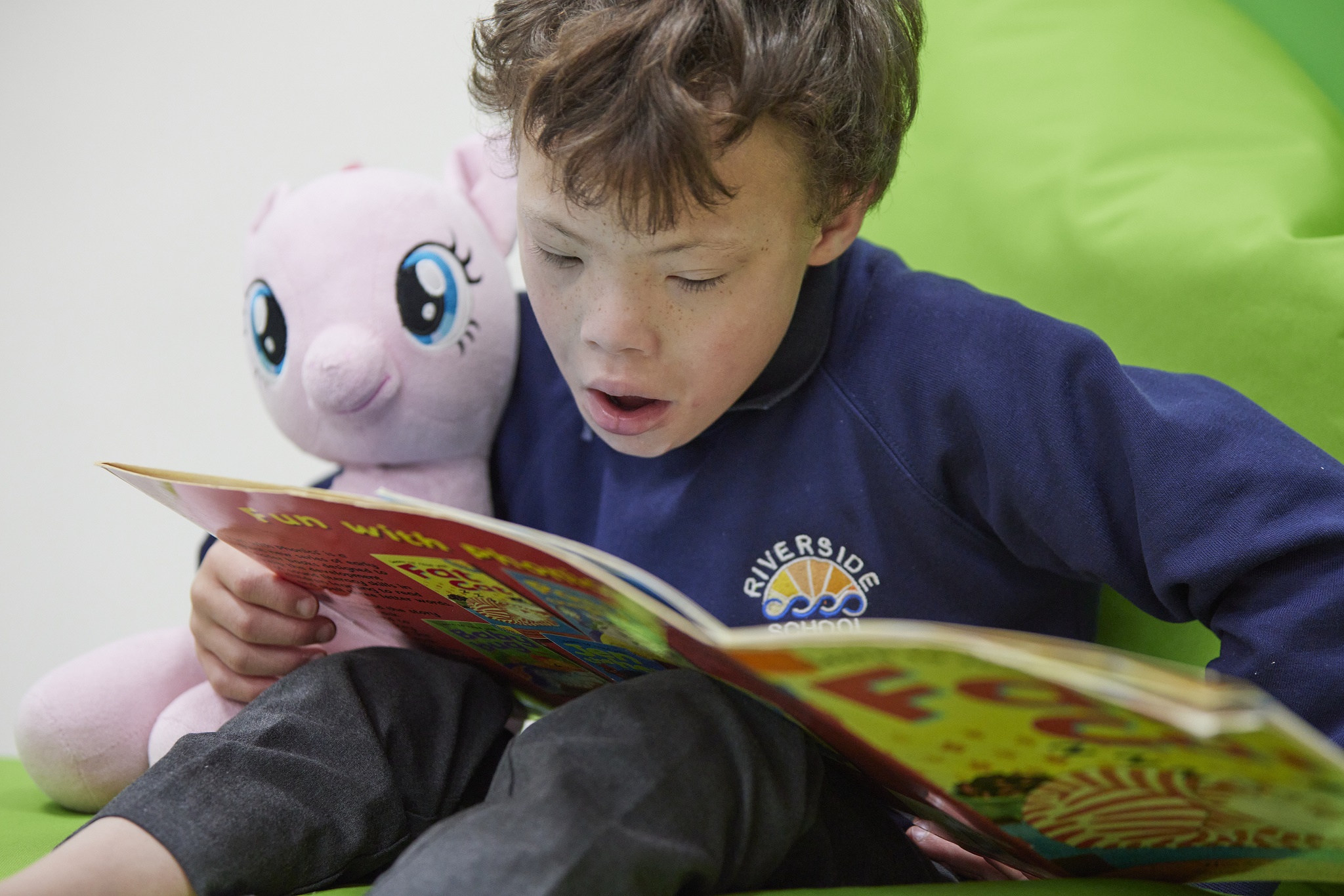 All pupils have the option to take a book home, share a story or have access to a range of our online videos to create a love of sharing rhymes or stories in their home context.
At Riverside School we are currently using a combination of reading schemes; these include Read Write Inc, Little Wandle and Oxford Owl. These enable us to include and engage each pupil in a variety of ways to ensure that all of our pupils have access to what they need to support their individual engagement, enjoyment and progress.
In order to ensure that we are providing a truly personalised curriculum and approach, we group pupils in a range of ways. This maybe as a whole class (in their own class or across several classes); smaller groups or on a one to one basis.
Reading leads support teachers to access and support the development of reading across all four of our sites by observing sessions, offering training and guidance and creating clear next steps for each pupil. In addition, lead teachers offer weekly Drop In sessions to support pupils and teachers where needed.
Reading leads support teachers with assessment, by assessing where each pupil is within the scheme. This may be through viewing a pupil's engagement of environmental sounds to hearing a pupil read a book. We assess our pupils termly, using the relevant assessment grids. We ensure that our assessment is inclusive and adapt as needed to ensure our diverse pupils can access. This may be done by using AACs or through other creative ways to check and reinforce understanding. This assessment allows us to ensure that pupils are placed in the correct groups and reading books are at the correct level for their phonetical learning. We have a variety of genres of reading material available for pupils in order to further develop their vocabulary as well as their love for reading. All of our reading materials are banded to ensure clear progression throughout our pupils' reading careers at Riverside and beyond.
Impact:
Through personalised 'Reading at Riverside', our aim is for all pupils to share a love of reading. This might be through learning to read using the systematic phonics or to be immersed in stories which further develops their language. Depending on which learning pathway pupils take will guide what 'Reading at Riverside' looks like for them. We have high aspirations for all of our pupils. For those on orange and yellow pathways, we are working towards, supporting them to become fluent and confident readers, who can access a range of texts for pleasure and enjoyment. Our aim is for these skills to be transferred beyond the classroom whether this is around Riverside School within the Riverside Lounge creating menus, serving customers or ordering food. Moreover, we aspire for pupils to continue to apply their learning beyond Riverside School, providing opportunities and skills for life, at home and in the community.