Options and Accreditation
Pathways
In September 2016 Riverside School launched the 14-19 Pathways Curriculum. This curriculum consists of six exciting Pathways:
Arts Award (Trinity Guildhall)
Food Technology (AQA Unit Award Scheme)
Home & Garden Maintenance (AQA Unit Award Scheme)
ICT (AQA Unit Award Scheme)
PE (AQA Unit Award Scheme)
Arts & Craft (AQA Unit Award Scheme)
Skills 4 Life focuses on developing confidence, enabling independence, improving communication skills, promoting an awareness of the environment and community, developing personal presentation skills as well as improving skills in cooking and handling money.
Since September, the Skills 4 Life in The Community groups have visited Bromley College using public transport and have visited local shopping centres and banks.
The Skills 4 Life curriculum in school consists of three exciting workshops; Skills 4 Life Cooking, Personal Presentation Skills and Skills 4 Life Shopping using money. Pupils accessing Pathways follow two Pathways plus the Skills 4 Life curriculum.
In addition, some pupils will work towards and English & Maths WJEC Qualification in Personal Progress Entry Level 1.

Pathways Timetable 2016/2017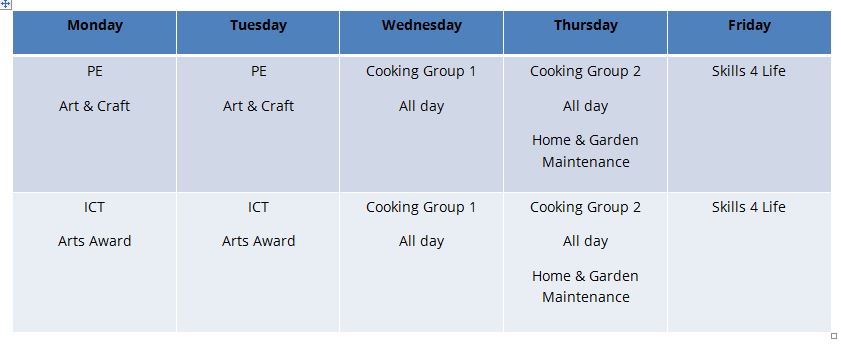 Click the attachment below to view our achievements in 2015/2016