Curriculum Framework
On 12th September 1962, crowds gathered at Rice Stadium in Houston, Texas to hear President John F Kennedy's address on the Nation's Space Effort. The President proclaimed: "We choose to go to the moon in this decade and do the other things, not because they are easy, but because they are hard". More than fifty years later, in his foreword to the children's story "Goodnight Spaceman", the first British ESA astronaut Tim Peake, wrote: "We are all astronauts, young and old, zooming around the Solar System on our very own spaceship: Planet Earth. When I look up at the stars, I see the future – filled with further space exploration and new scientific discoveries. I hope that Goodnight Spaceman inspires a new generation of boys and girls to look up at the stars and not just ask questions but to go and seek answers of their own".
We have rewritten our Curriculum Framework not because it was easy to do, but because it was hard. Equally, we want it to provide a framework for exploration, discovery and excitement. The Space analogy works for us: it provides both certainty and mystery; security and wonder. It provides a visual representation of our pupils' journey with us and can be articulated with both clarity and passion.
For most of our pupils, Riverside School will be the only school they go to and the majority will be with us for fifteen years. For us as a school, that carries great responsibility to get it right. And getting it right includes ensuring our pupils receive the highest quality teaching and learning; in areas that will truly make a difference to their lives and the lives of their families; and that they leave us with memories of life-enriching experiences.
In addition to providing our pupils with smooth transitions between phases, we also want them to enjoy different experiences that signify movement through the school. At times, these may be subtle curriculum changes and at other times, they may be more pronounced. Our Curriculum Framework has been designed to provide both continuity and progression as our pupils travel, over fifteen years, through the school.
Our Curriculum Framework is based around The Pursuit of Happiness and this is an idea that we have been discussing at Riverside School for some time. Two and a half thousand years ago, Aristotle wrote about Eudaimonia: in effect, happiness, wellbeing and fulfilment. In more recent times, the Positive Psychology movement has gained momentum and is founded on the belief that people are driven to lead meaningful and fulfilling lives and to cultivate what is best within themselves. At Riverside School we talk about being in our element, being in a state of flow and of course, Being All That We Can Be. This notion is based on Maslow's concept of self-actualisation, at the top of his hierarchy of needs pyramid.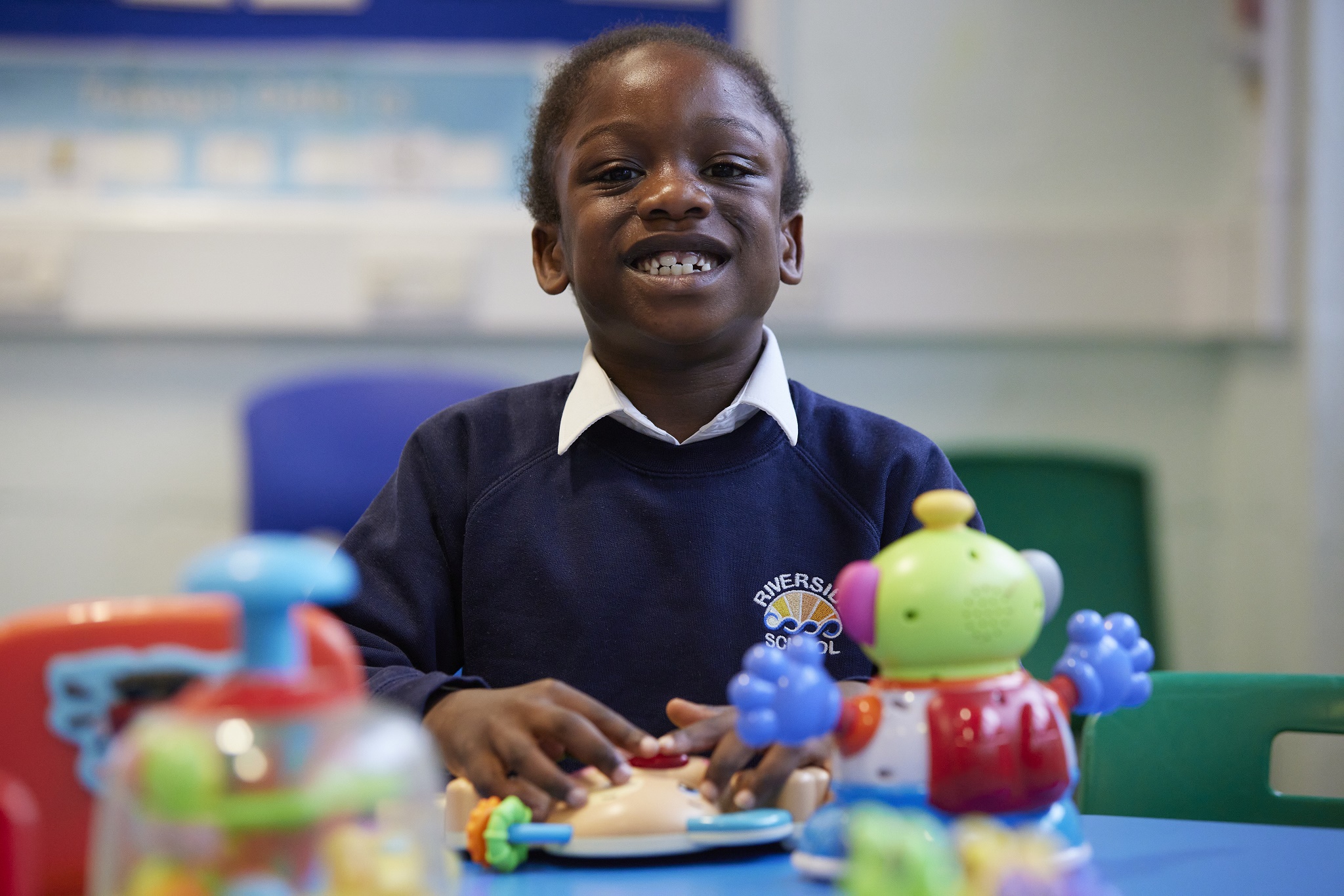 Our Curriculum Framework is fully aligned to our values, our mission, to transform our children's lives and the lives of their families, and our vision, to inspire breakthroughs in the way society enables children with complex needs to find true fulfilment. One of our four pledges stands out on its own and is simply this: "We will influence the world of specialist education by creating an innovative curriculum framework based around The Pursuit of Happiness".
Our Curriculum Framework has evolved over time, responding to changing needs and reflects the latest innovative and research-informed practice. At Riverside School, we always start with why and follow this by considering not just what is taught, but also how it is to be delivered. We also feel strongly that the three elements of pedagogy, curriculum and assessment must be inextricably linked.
We believe that curriculum development should be the responsibility of the whole school community and through co-production of our 2020 Vision; our latest School Development Plan and our complementary Think 25 and The Big ASK initiatives, the whole school community is committed to playing its part in driving the school forwards.
In recent times, we have produced a range of documentation which details our curriculum provision across different age groups and different pupil cohorts. We firmly believe that accurate and focused assessment is the cornerstone of high quality teaching and learning and we have also developed an extensive Assessment Toolkit which informs subtly nuanced planning and reflects, measures and celebrates our pupils' strengths, achievements and progress over time. Our assessment tools are both formative and summative, as well as quantitative and qualitative and are shared with families as part of our termly reporting systems. The power of our new Curriculum Framework is that it brings together all the component parts into one cohesive and connected model that applies to each of our 335 diverse and truly unique pupils. True to our beliefs, the concept of profound personalisation is at the very core.
We are extremely proud of the school's track record of curriculum innovation and design, charting back to "In Search of a Curriculum" (originally published in 1983) and we anticipate that our new Framework will provide a blueprint for excellence for pupils with complex needs in the years to come. At Riverside School, we talk a lot about The Irresistible Journey and the development of our Curriculum Framework sits neatly within this. The whole school community looks forward to the next stage as together, we are ready to launch.