Assessment & Progress
Our Assessment Framework stems from Government's policy to move away from standardised assessment levels as we knew them and a drive towards schools deciding how to measure pupil progress. At Riverside School, we have embraced this opportunity and are proud to have developed and formulated our own holistic and personalised curriculum and assessment framework. We have introduced 'Personal Learning Plans' and 'Unique Profiles' for all our pupils and we have developed our own set of assessment levels which we have named 'R Levels'.
''Personalising learning demands that schools transform their response to the learner from the largely standardised to the highly personalised'' - Hargreaves 2009
Personal Learning Plans (PLPs)
We are passionate about focussing on the factors that really make a difference to our pupils' lives and the lives of our families. We were also fully committed to ensuring that PLPs reflect what families feel were the most important factors at a given point in time so that, together, we can identify the significant and meaningful outcomes for our pupils and ensure that what we are teaching every day works towards achieving them. We pride ourselves on offering each pupil a personalised curriculum and we really believe PLPs fully support this holistic process.
We will achieve this by outlining the three main outcomes that have been decided upon and then breaking these down into six key foci. These will enable the whole class team, therapists and families to support our pupils on their journey to achieve them.
Each pupil will receive three PLPs each academic year, written at the beginning of each school term. At the end of the term families will receive information regarding the progress their child has made and their next steps; these will form part of the new 'Unique Pupil Profiles' (see next section). Please see our Case Studies HERE.

Unique Profiles
To complement our PLPs, and show the progress our pupils make in all areas of their school life, for example rebound therapy, swimming, wellbeing and behaviour, we also produce Unique Pupil Profiles. These give an overview of all the different elements which make up our pupils' personalised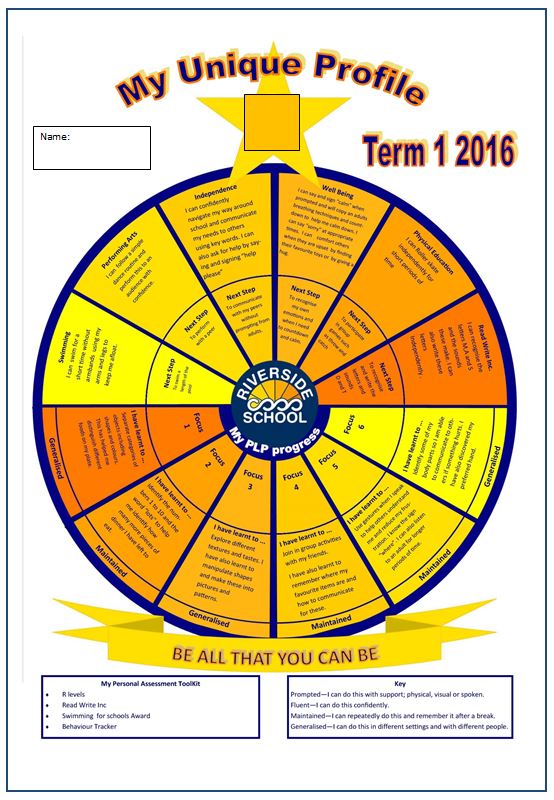 and truly holistic curriculum.
There are 6 areas which are completed to show the progress that our pupils have made throughout the term and a link to the progress made by the PLPs. Each profile will include an Assessment Toolkit which will list all the assessment tools that the pupil is accessing.
We are very interested in doing more research and work into how we can document and report on progress made in fundamental areas such as happiness and personal fulfilment. This is something we have begun to capture with the Unique Pupil Profile and will continue to build upon.
R Levels
Further to the Government's policy to move away from standardised assessment levels, we have devised our own set of assessment levels and personalised descriptors. We have taken in to consideration former National Progression Guidance and consulted with other special schools to inform our decision making. Notably we devised a set of early cognitive level descriptors (R1i-R3ii) to ensure we were capturing all the progress for pupils working at these early levels.
All our pupils are now working on R Levels, making it easier to analyse and compare our data sets across the school. R Levels range from R1i to R18 and can be compared with other schools nationally using different systems by referencing our pupils' age equivalency (see link below to Assessment Levels Comparison). We have formed a Specialist Learning Partnership of senior leaders with other local special schools to analyse, benchmark and moderate assessment across our schools in order to ensure we are addressing the issue of national benchmarking in this time of change.
Please click the attachment below to view our Assessment Levels Comparison.