Achievement, Assessment & Progress
At Riverside School we aim to provide a broad, balanced, relevant and progressive curriculum personalised for every pupil. The pupils at Riverside School have a variety of complex needs, which require particular attention and a responsibility to evidence their progression and celebrate their achievements. At Riverside School, we continue to measure our pupils' achievement and progress in so far as it contributes to our mission to transform our children's lives and the lives of their families. Due to the wide variety of learning styles and needs at Riverside School, we believe that a 'one system for all' approach to curriculum and assessment would neither be beneficial or appropriate.
Our Assessment Framework stems from Government policy to move away from standardised assessment levels as we knew them and a drive towards schools deciding how to measure pupil progress. The national picture indicated that many schools were left with more freedom in this matter than they might choose and deciding how to measure progress and benchmark with other schools was causing concern. However, at Riverside School we embraced this opportunity and are proud to have developed and formulated our own holistic and personalised curriculum and assessment frameworks. In 2015 we introduced 'Personal Learning Plans' and 'Unique Profiles' for all our pupils and we developed our own set of assessment levels which we named the 'Riverside Progress Scale'.
''Personalising learning demands that schools transform their response to the learner from the largely standardised to the highly personalised'' - Hargreaves 2009
Our Assessment Journey
Our curriculum and assessment journey has continued to be one of tailoring our personalised assessment systems to complement our very personalised curriculums, as such we whole heartedly place our pupils Personalised Learning Plans (PLPs) and their subsequent Unique Profiles (UPs) and Riverside Progress Scales (RPSs) at the centre. Together they form the basis of both our individual and whole school assessment framework.
As our main assessment is driven from our PLPs, it is essential that we are able to ensure that the achievements made against the PLP focuses are fully captured in a rigorous and robust manner. In order to do this, we introduced our Riverside Progress Scales (RPSs). The Riverside Progress Scale enables us to recognise progress when progress occurs, celebrate lateral progress, develop existing skills and enable us to see when pupils have acquired new skills within a level.
Personal Learning Plans (PLPs)
In November 2015, we launched our Personal Learning Plans (PLPs). These replaced what were previously Individual Education Plans (IEPs). We were passionate about focussing on the factors that really make a difference to our pupils' lives and the lives of our families. We continue to be fully committed to ensuring that our PLPs reflect what families, therapists and other key staff feel are the most important areas to be working on. The idea being that, together, we are able to identify the most significant and meaningful outcomes and ensure that what we are teaching every day works towards achieving them. We pride ourselves on offering each pupil a personalised curriculum and we believe the PLPs fully support this holistic process.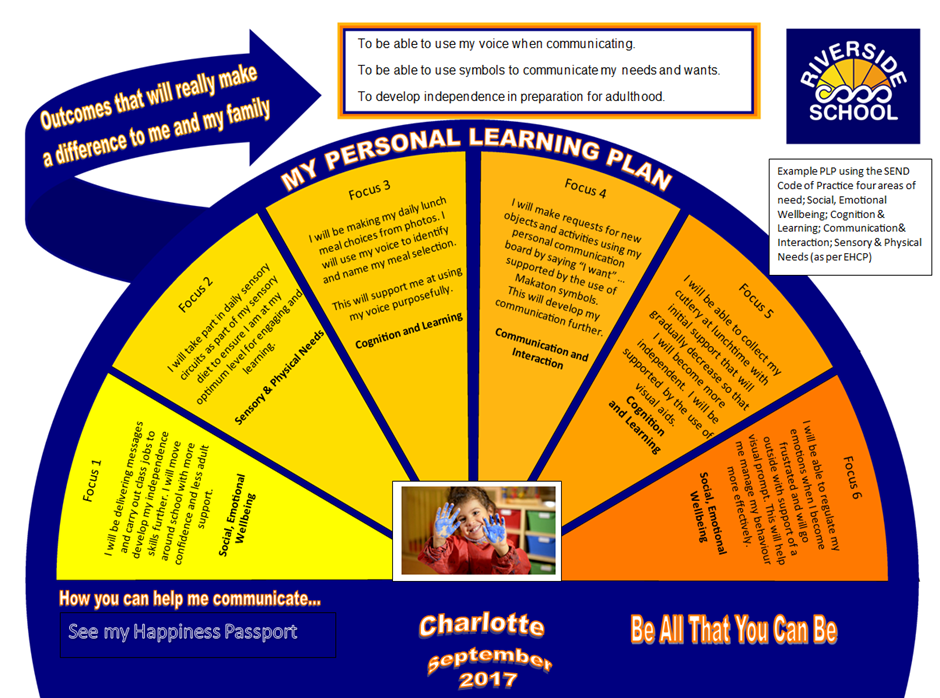 We drew upon the work of Penny Lacey and used her notion of 'Scruffy Targets' to guide our thinking and development of our new systems. This is an alternative approach to the well-established targets which we felt were no longer always the most appropriate for our pupils and gave teachers the confidence and autonomy to write outcomes that were challenging, meaningful and appropriate.
Each pupil receives two PLPs each academic year, one written in September and one written in March. These are reviewed at two points of the year, the first being in February and the second in July.
As part of the SEND Reforms, the Education, Health and Care Plans are designed to look at outcomes as each pupil progresses through school and beyond. EHC plans have replaced statements of special educational needs. They include special educational provision, health provision and social care provision.
We are confident that our PLPs support this process and are written in conjunction alongside pupils EHCPs, ensuring that every pupil has every opportunity to fulfil their potential and Be All That They Can Be. Following the current national campaign to raise the profile of the Educational Health Care Plans (EHCPs) and reflecting the fact that all of our pupils have an EHCP, we have ensured that all PLP focuses fully complement all EHCP outcomes. We signpost our PLP focuses to ensure that each of the four areas of the SEND Code of Practice are referenced within our PLPs, thus ensuring consistency and best practice.
The four areas are:
1. Cognition and Learning
2. Communication and Interaction
3. Sensory & Physical Needs
4. Social, Emotional Wellbeing
Following the raised profile of the outcomes included in the London of Borough of Bromley's 'Pathways for Preparing for Adulthood', we also decided that it would be beneficial to include these outcomes on all PLPs for pupils in Key Stage 4/5 e.g. Years 10, 11, 12, 13 & 14. These are pathways that fully complement our Key Stage 4/5 Moving On Curriculum.
The four areas are:
1. Employment' or 'Participation' (whichever is most appropriate for the individual pupil)
2. Independent Living
3. Community Inclusions
4. Health Pathway
To complement our PLPs, we produced our Unique Profiles (UPs). We wanted to show the progress our pupils make in all areas of their school life. We wanted to share these with families and other professionals on one clear page and celebrate the progress that our pupils make in each of these areas for example rebound therapy, swimming, wellbeing, eye gaze, skills for life, etc. One pupil's school day will look completely different to another pupil in the same class according to their individual needs, interests, and learning preference. We are very proud of the diversity within our curriculum and our assessment tools, enabling us to celebrate the outstanding and unique progress that our pupils make.
Unique Profiles
The UPs are completed at two key points in the year; February and July. They document the progress made within each PLP focus area as well as capturing a further 6 key achievements that have been made: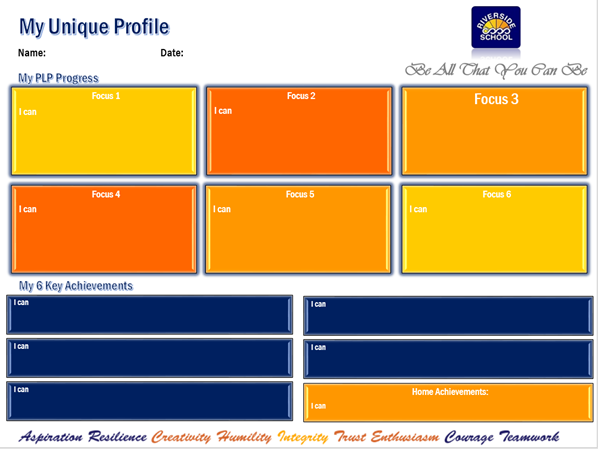 For our pupils working at earlier cognitive levels, we ensure the six key achievements are focused on the key areas of Engagement (please see 'Engagement at Riverside School' for more information):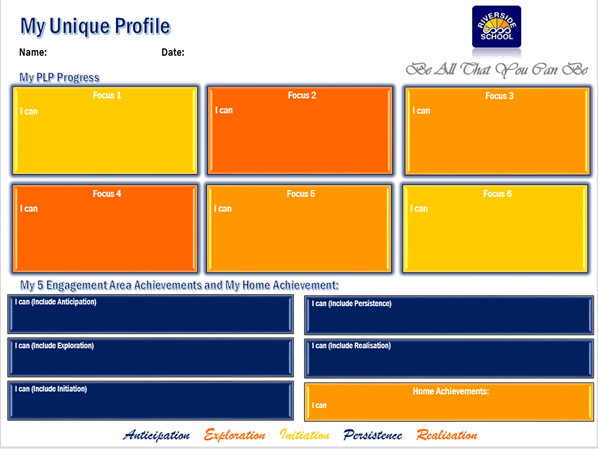 In documenting our pupils progress we were conscious that in the past we had found it challenging to show the unique steps of progress made by our pupils, especially for those working at early cognitive levels, as language around previous targets had simplistically suggested 'they can' or 'they can't'.
The UPs are a wonderful celebratory document to share with families and the pupil themselves, we hope they make their way up on to family fridges at home for all to see. Alongside these celebratory documents we also wanted to produce a further assessment which would enable us to fully track progress made within the PLPs on both an individual and whole school level. Allowing us to identify any trends and patterns and see where we needed to introduce further interventions to support progress. As well as being able to focus and highlight individual pupils' progress stories.
As such we introduced the 'Riverside Progress Scale'. Enabling us to more robustly assess and view progress, by examining the development of skills by focusing on four aspects of skill acquisition on a four-point scale. The four aspects are: independence, fluency, maintenance and generalisation.
See the below example of the 'Riverside Progress Scale':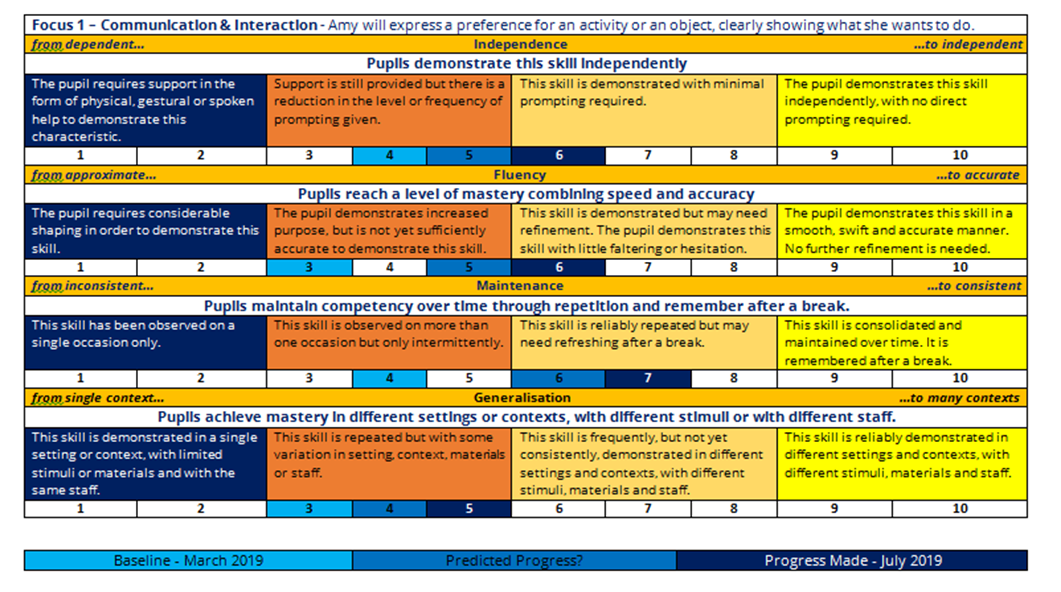 The Riverside Progress Scale enables us to:
Use a common vocabulary for observation and recording;
Provide a framework for recording progress against skills which are not easily being broken down into smaller and smaller steps;
Provide a framework for recognising progress where the same skills are being practised and refined over time;
Provide a framework for evaluating qualitative differences in performance as well as quantitative differences;
Celebrate the various strengths and needs which our pupils have in different aspects of skill development, for example, a pupil's ability to maintain skills in relation to their ability to refine them or to work without support.
The four aspects which are taken to characterise skill development are not hierarchical but may develop concurrently, namely:
Independence – pupils progress from being wholly dependent on support towards being completely independent of support
Fluency - performance progresses from being hesitant and approximate towards being smooth, swift and accurate
Maintenance - performance progresses from being inconsistent towards being consistent and reliable
Generalisation - progress is from practising a skill in a single context towards practising it across a range of settings with different people and materials.
Definition of Terms:
Independence is about increasing independence.
There is progression from being able to perform a task only with maximum support to being able to complete the task independently. Types of support may include:
Physical help
Spoken help
Gestural help
Fluency is about combining speed and accuracy.
For example:
Hitting a switch with increasing speed and/or accuracy
Signing with greater accuracy and fluency
Speaking – producing speech sounds with increasing clarity
Writing – forming shapes with increasing control
Maintenance is about becoming more consistent over time.
For example: An isolated response or action is repeated and repetitions become more consistent and reliable.
Generalisation is about performing in different settings with different people.
Skills which have been learnt in one context are applied in an increasing range of contexts.
For example:
Using a communication aid to ask for a drink in a café
Approaching staff to ask for assistance in the local college
These four aspects provide a common language with which to frame and articulate judgements, since they offer both a framework for assessing pupil progress and a set of reminders for teachers. For example, independence prompts the teacher to ask, 'am I stepping back enough or am I providing too much support here?'. Fluency asks, 'am I ensuring that this skill is as good as it can be or am I pushing the pace and rushing on to the next stage too quickly?'. Maintenance asks, 'am I providing sufficient repetition for this learning to become truly embedded and, so to speak, second nature?'. Finally, generalisation is a reminder to teachers to provide a range of contexts in which the pupil can initiate and practice a learned skill.
In order to ensure consistency of judgements we have provided each of the four aspects with a rating scale and descriptors, adapted from those used in MAPP.
As in MAPP, the criteria for success will vary from pupil to pupil and from focus to focus. There is no expectation that a value of '10' should be recorded for each aspect before a focus is judged to have been achieved. This type of assessment and how we are adapting and using it, is as an ipsative form of assessment (that is, it compares a pupils' present attainment with their own prior attainment, how they have progressed from their starting point). We find it useful here to consider the analogy of going to the gym; when you are working out, you are trying to beat your personal best and improve upon your fitness, not that of the person working out next to you.
The importance of this data recording is that it gives a visual profile of progress, of relative strengths (between focuses set and between aspects of learning) and enables us to critically evaluate progress so that assessment can be fed back into planning teaching and learning. By doing this we will be in a better position to critically evaluate progress made amongst individual pupils and between groups of pupils if needed. Enabling us to further identify trends and plan next steps and interventions as necessary. The data will allow us to see trends within the 4 areas, for example if 'generalisation' was consistently gaining a lower score, could that indicate that further support needs to be given in that area before moving on to a next step?
In order to make meaningful assessments of each pupil, pupils are baselined, using the Riverside Progress Scale. Allowing us to create a full and accurate picture from which we can measure and predict future progress and to inform our next steps.
For each PLP focus there will be a baseline made against each of the below areas:
Independence Scale – from dependent to independent (1-10)
Fluency Scale – from approximate to accurate (1-10)
Maintenance Scale – from inconsistent to consistent (1-10)
Generalisation Scale – from single context to many contexts (1-10)
Teachers will make an informed judgement about when enough progress has been made before moving onto a new focus area. One pupil's 'achieved' will be different from another pupil's 'achieved'. One pupil may have a baseline of 2 and move up to the scale to a 4 and that may be deemed progress enough to say they have achieved that focus area to the best of their ability. Another pupil may start at a 3 and progress to a 9 or 10. This is where teacher judgement is essential, and the process relies upon the teacher knowing the pupil exceptionally well and being able to justify why a 4 would be an 'achieved' for that pupil.
The Riverside Progress Scale celebrates professional judgement and views this as crucial and pedagogically sound.
R Levels
Further to the Government's policy to move away from standardised assessment levels, we moved away from using the P Scales as assessment levels as we recognised that assessment led teaching was resulting in a lack of process based, holistic teaching occurring. We devised our own set of personalised descriptors, our 'R Levels.' We took in to consideration former National Progression Guidance and consulted with other special schools to inform our decision making. Notably we devised a set of early cognitive level descriptors (R1i-R3ii) to ensure we were aware of all the small steps of progress that can be worked towards for pupils working at these early levels.
Our teachers refer to and use our R Levels to support their pedagogy and help them to guide their pupils individual learning journeys. The R levels support us to moderate, analyse and compare our data both internally and externally. They range from R1i to R18 and can be compared with other schools nationally using different systems by referencing our pupils' age equivalency (see link below to Assessment Levels Comparison). We have formed a Specialist Learning Partnership of senior leaders with other local special schools to analyse, benchmark and moderate assessment across our schools in order to ensure we are addressing the complex issue of national benchmarking for our unique pupils.
Please CLICK HERE to view our Assessment Levels Comparison chart.
Engagement at Riverside School
Engagement is the single best predictor of successful learning for children with learning disabilities (Iovannone et al., 2003). Without engagement, there is no deep learning (Hargreaves, 2006), effective teaching, meaningful outcome, real attainment or quality progress (Carpenter, 2010).
At Riverside, we already have engagement at the forefront of our minds.
It is statutory for schools to report which Primary aged pupils are being assessed using the Engagement Model. This is the case for all KS1 & 2 pupils working at R4 and below (those working at an Early Cognitive Level).
The new Engagement Model areas are: Anticipation, Exploration, Initiation, Persistence and Realisation.
We have decided to ensure that we are thinking about and referring to the five areas of Engagement for all pupils, irrelevant of their age, who are working at an Early Cognitive Level (R4 and below, including those within the Early Years).
The 5 Areas will help us to highlight and articulate the different skills involved. Rather than making one comment on increased engagement, we will be reminded to talk about increased anticipation, or showing an ability to further explore or initiating more spontaneously.
It will give us more scope when setting focuses and improve the way we refer to, recognise and celebrate small steps of progress; UPs.
It will support us when talking to other professionals and families; increasing our vocabulary, shared understanding, and ensure we are using consistent language throughout the school and externally, and help us to evaluate the effectiveness of our sessions, our teaching and plan next steps.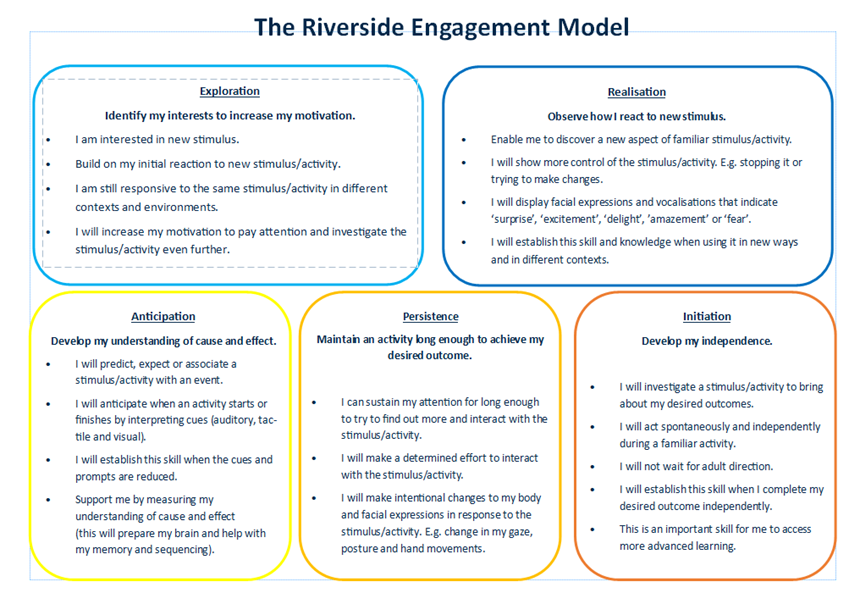 Although no set Engagement Area PLP focuses are needed, we will be using Engagement Language within our PLP focuses for pupils working at these levels. For example, "I will remain focused and watch the items being removed from the surprise box. I will show anticipation when the Surprise box is brought into the circle. I will do this by reaching towards the items".
We have decided to use our UPs 5 Retrospective Achievement boxes to make a reflection for each Engagement area. Please see the earlier UP section for an example.
Engagement Area language will also be included within pupils Happiness Passports as appropriate and as needed Teachers will use the Engagement Areas to reflect and inform their future planning.
Performance Tables and Key Stage Results
Information regarding our latest Key Stage 2 and Key Stage 4 attainment can be found by clicking HERE
The School and college performance measures Website can be found HERE