Black History Month Celebrations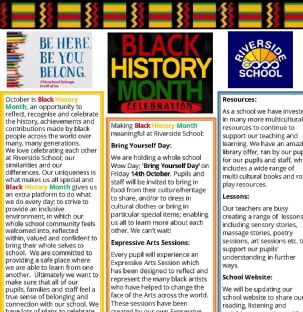 October is Black History Month, an opportunity to reflect, recognise and celebrate the history, achievements and contributions made by black people across the world over many, many generations.
We love celebrating each other at Riverside School; our similarities and our differences. See the attachment below for full details of how we will celebrate this month, including a Bring Yourself Day on 14th October.
Please do also click to browse further resources in the Be Here. Be You. Belong section of our website.