Riverside Lounge Grand Opening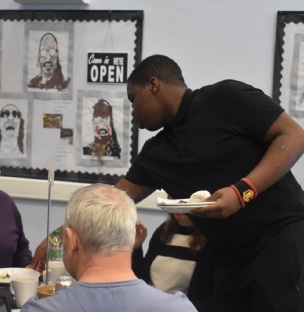 We are very proud to have officially opened The Riverside Lounge. Thank you so much to all of our sponsors, FFT, Nigel, Julie, Richard and Paul. The time, money, equipment, they have all contributed towards our initiative has made a significant difference to our pupils and the opportunities that we have been able to provide for them.
In the summer we had a vision to have a community café which would enable pupils, staff, and the wider community to come together in a meaningful way and for pupils to develop valuable work related independent skills. In the past month and half we have been open, The Riverside Lounge has gone from strength to strength. Our pupils in years 10 – 14 have been involved in every aspect of the planning, preparation and running of The Riverside Lounge. This is everything from making the furniture, making meaningful choices over the music to be played and art work to accompany this, thinking about the items to purchase, taste testing to then actually making specific food items, being a waiter and working on the till. The skills pupils have developed throughout this process have been incredible to see.
We've had some great feedback from pupils and staff and we've also been able to further develop areas thanks to the feedback received.
The Riverside Lounge is an integral part of our pupils' curriculum. The Riverside Lounge is so much more than what you see 'front of house'. It is a complete immersive experience for pupils within which they are able to take part in a range of opportunities which are meaningful to them, to develop their work related independent skills but, also, in terms of confidence building, working with others, developing appropriate social skills and developing a sense of achievement.
We have many exciting future plans for The Riverside Lounge, including translating the skills pupils have learnt into AQA unit awards, which are certificates that detail specific steps pupils have completed in order to complete a task. We have ideas about themed days, ice creams in the summer and opening up fully to the public. Next half term we are continuing to open up The Riverside Lounge to other classes to come in and enjoy. We have a communication app on our tablet devices, which helps support our pupils to further develop their functional communication skills by requesting their food and drink choices. The potential of The Riverside Lounge is endless.
A huge thank you to all our staff and of course the pupils for their hard work. The Riverside Lounge means a lot to them. Their dedication and professionalism has been amazing to see.
Please CLICK HERE to view photos of our grand opening yesterday and do watch this space for more information about future events in The Riverside Lounge.