Riverside Community Calendar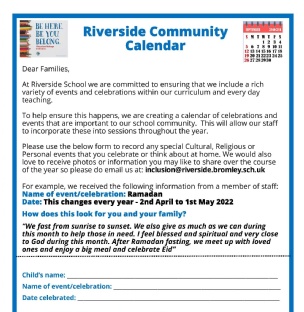 At Riverside School we are committed to ensuring that we include a rich variety of events and celebrations within our curriculum and every day teaching.
To help ensure this happens, we are creating a calendar of celebrations and events that are important to our school community. This will allow our staff to incorporate these into sessions throughout the year.
Please CLICK HERE to inform us of any special Cultural, Religious or Personal events that you celebrate or think about at home. We would also love to receive photos or information you may like to share over the course of the year so please do email us at: inclusion@riverside.bromley.sch.uk
For example, we received the following information from a member of staff:

Name of event/celebration: Ramadan
Date: This changes every year - 2nd April to 1st May 2022
How does this look for you and your family?
"We fast from sunrise to sunset. We also give as much as we can during this month to help those in need. I feel blessed and spiritual and very close to God during this month. After Ramadan fasting, we meet up with loved ones and enjoy a big meal and celebrate Eid"