Community Experience - Can You Help?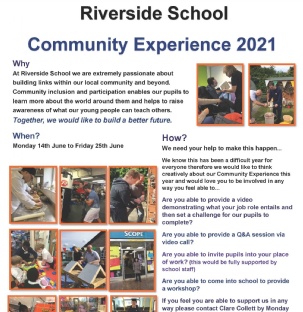 At Riverside School we are extremely passionate about building links within our local community and beyond. Community inclusion and participation enables our pupils to learn more about the world around them and helps to raise awareness of what our young people can teach others. Are you able to help provide an opportunity for our pupils?
Please get in touch if you are able to support in any of the ways list in the flyer (linked below). Please email clare.collett@riverside.bromley.sch.uk or telephone 01689 870 519. Thank you.