Staff Panto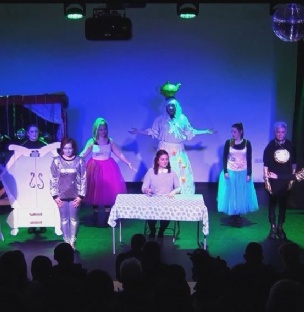 We had a wonderful time sharing our accessible pantomime and training session with guests from local schools and arts organisations last week.
Guests had the opportunity to attend a pre-show talk about creating accessible performances, followed by a chance to watch the final performance of the show with some of our students.
Katy discussed the creative process behind writing, directing and choreographing the work with consideration of the needs of our pupils and their engagement. Charley then explored the 8 senses and how elements of the pantomime enthused and encouraged sensory processing, followed by a talk by Charlotte on communication, interaction and engagement in the pantomime. We had some fantastic feedback from guests who thoroughly enjoyed the experience.
I thought this was a brilliant experience as you were all so interactive with the children and we were able to see their endless enjoyment they had throughout which was incredible to see. I would love to do something like this in the future as it seems like a very rewarding job.
Tremendously useful. Better understanding of useful ways to work with students with special educational needs.
To see an entire staff team come together and have such a positive wholesome effect on both school and audience was an absolute joy.
I cannot believe the amount of work that has gone in to this project and seeing the reactions of the pupils show how much this method works!
I'm a professional actor/dancer and the talk and performance was absolutely amazing. The hard work and thought gone in to the entire performance is beyond anything I've seen before. I hope this idea goes on to reach all those who benefit from such interaction. I could see how well the audience responded. Blown away. Thank you for this experience.
We hope you enjoyed our performance and can enjoy it again by clicking HERE to visit our Performing Arts Video Galleries page.