Bromley Parent Voice Awards 2019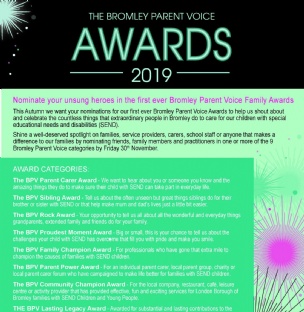 An opportunity to nominate your unsung heroes in the first ever Bromley Parent Voice awards.
This Autumn, Bromley Parent Voice Awards want you to help them shout about and celebrate the countless things special people in Bromley do to care for their children with special educational needs and disabilities (SEND).
They want to shine a well-deserved spotlight on families, service providers, carers, school staff or anyone that makes a difference to our families.
They are asking you to nominate friends, family members and professionals in one or more of the nine Bromley Parent Voice Award categories by; Friday 30th November 2018.
CLICK HERE to find out how to nominate.