James Robertson, Riverside Teacher, Book Launch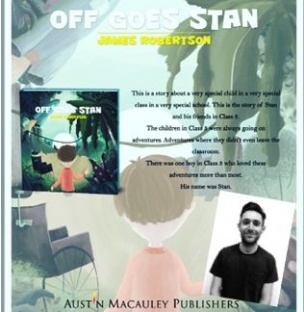 Congratulations to James Robertson, a class teacher here at Riverside, who has written and published a children's book.
"Off Goes Stan is the story of a very special young man with a very vivid imagination. Stan may have complex needs but, when he closes his eyes, his imagination knows no bounds. Join Stan as he disappears on adventures around the world and experiences all sorts of exciting things, without even leaving his wheelchair".
The book is available online now from http://www.austinmacauley.com/book/goes-stan
Watch this space as James hopes to announce a book signing event very soon.
Well done James. We wish you every success with the book.