Creative Agents in Co Motion Performance: "An absolute credit to their school"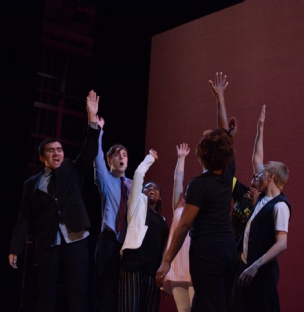 Six of Riverside's Bronze Arts Award pathway pupils, the Creative Agents, performed in an exceptional performance opportunity at the internationally renowned Laban Theatre as part of a Youth Dance Platform called Co Motion.
Pupils worked hard prior to the event in deciding their characters, choreographing dance sequences and participating in theory work, culminating in a dance theatre piece called Different Journeys. They took to the stage and wowed the audience with their captivating performance. One audience member said: "They were amazing and an absolute credit to their school. Their performance was so polished".
This performance opportunity will be contributing to the Creative Agents Bronze Arts Award course which is run over 1 to 2 years.
CLICK HERE to view photos from the day