Autism Course for Professionals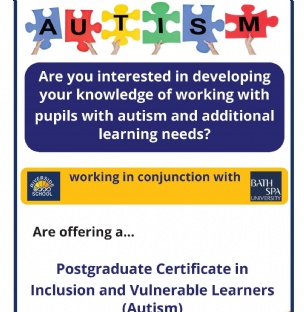 Are you a professional looking to expand your knowledge in Autism? If so, then this is the course for you.
Riverside School is once again working with Bath Spa University to deliver a Post Graduate Certificate in Inclusion and Vulnerable Learners (Autism) and we are now looking for next year's participants. It is a great opportunity to work with like minded people to develop theoretical understanding and apply it to the pupils you work with. A chance for you to really make a difference.
Application closing date is 7th July 2017. Please download the attachment below for further information on the course, costs and how to apply: