Life After Riverside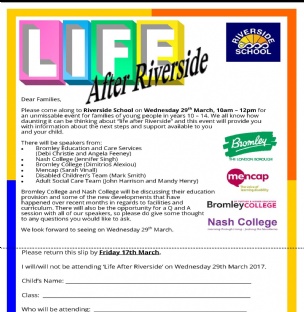 Please come along to Riverside School on Wednesday, 29th March, 10am – 12pm for an unmissable event for families of young people in years 10 – 14.
We all know how daunting it can be thinking about "life after Riverside" and this event will provide you with information about the next steps and support available to you and your child.
There will be speakers from:
· Bromley Education and Care Services
(Debi Christie and Angela Feeney)
· Nash College (Jennifer Singh)
· Bromley College (Dimitrios Alexiou)
· Mencap (Sarah Vinall)
· Disabled Children's Team (Mark Smith)
· Adult Social Care Team (John Harrison and Mandy Henry)
Bromley College and Nash College will be discussing their education provision and some of the new developments that have happened over recent months in regards to facilities and
curriculum. There will also be the opportunity for a Q and A session with all of our speakers, so please do give some thought to any questions you would like to ask.
Why not visit our Facebook Events page to let us know if you are coming.