Toby wins prestigious award from St John Ambulance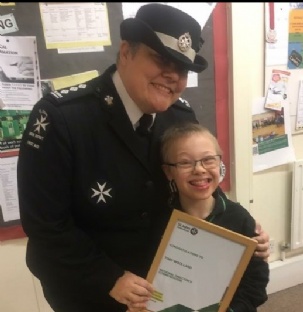 We are extremely proud of our budding paramedic, Toby, one of our Primary pupils at Riverside SPC, for his demonstration of courage, resilience and aspiration when he attended to a lady in need of first aid at a recent visit to St Thomas' Hospital. Well done Toby and thank you for reinforcing so many of our school values so remarkably well.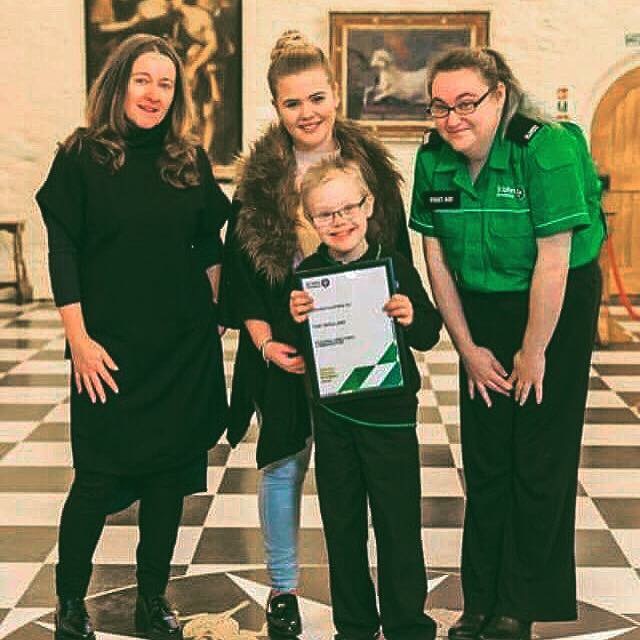 Toby's Mum, Karen, tells us below how Toby reacted to the circumstances and applied his skills:
In June 2016, whilst I and my son Toby were attending an appointment at St Thomas' Hospital, a patient came out of the on-site clothes shop and, as she hooked her bag on her shoulder, she caught the cannula in her hand which started to bleed uncontrollably.

Toby saw this and became very concerned for the lady and ran to her, calling to me "Oh poor lady Mummy, poor lady". Whilst I went to get her a chair to sit on, Toby comforted her telling her "it will be OK, I'm here". He stroked her face and kissed her head. Toby told me "arm up Mummy" - he wasn't fazed at all and genuinely was concerned for her and just wanted to help. (Toby attends St John Ambulance Youth Programme and is obsessed with hospitals, doctors, etc. He wants to be a paramedic when he grows up).

He was so calm and brave and didn't get distracted and didn't run off whilst I had the lady's arm in the air and there was blood dripping everywhere. This was especially surprising as he had just attended his ADHD appointment and had been totally distracted moments before.

When help finally came, the lady thanked Toby for making her better.

Unbeknown to us, the shop who observed everything, contacted St John Ambulance to congratulate the grown up behaviour of this calm Badger. They didn't mention his additional needs which I am so proud of; they saw my son - not his needs.

Toby was nominated for the Regional Director's Award for his achievement which, in itself, was a great honour. Toby went on to win the award and he received this in November and the photo above shows Toby and his sister receiving this Award at St John's Gate in London. He was the only one to receive this award this year in the whole of London.

I cannot express how proud I am of my little 'doctor' and maybe one day he may actually achieve his dream and become a paramedic.